Solvent Red 49
Product Detail
Product Tags
Solvent red 49 is a kind of solvent dyes, which is processed on the basis of Rhodamine B.
Since 1995, XCWY company is producing solvent red 49 from its raw material to solvent red 49.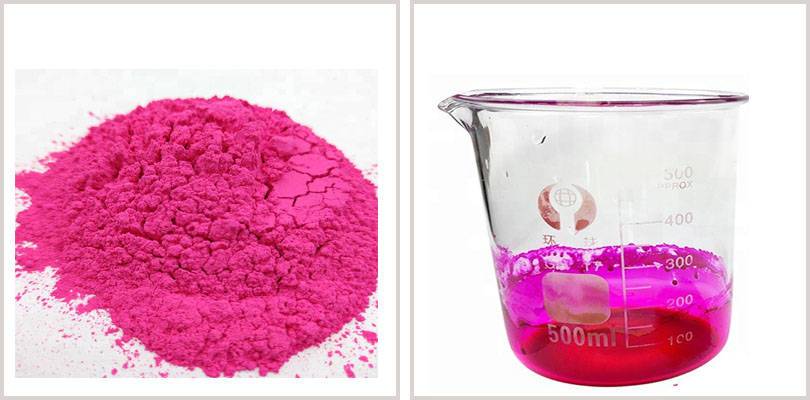 Solvent Red 49 Specification
» Product name: Rhodamine Base
» Type: Solvent red dyes
» CAS NO.: 509-34-2
» Other names: 310 Basic rhodamine B Extra, Basic violet 10
» Appearance: Uniform pink powder
Solvent Red 49 Basic Information
Basic Information

Product Name

Rhodamine Base

Colour Index 

C.I. solvent red 49

CAS No.

509-34-2

Specification

Shade

Similar With Standard

Appearance

Pink powder

        Moisture %≤

 0.9

Insoluble Matter %≤

0.05

Properties

Insoluble in water, soluble in organic solvent
Solvent Red 49 Chemical Property
It is blue-red shade in water and ethanol with strong fluorescence, slightly soluble in acetone and easily soluble in ethylene glycol ether. It is yellow-brown color in concentrated sulfuric acid with strong green fluorescence. The color is bright red after dilution and then blue-red and orange. When the water solution is heated by after adding sodium hydroxide, it produces rosy flocculent precipitation.
Solvent Red 49 Usage
Mainly used for coloration in grease, candles, rubber, plastics and transparent paint.

Contact person: Miss Jessie Geng
Email:jessie@xcwychem.com
Mobilephone/Whatsapp: +86-13503270825
---
Previous:
Direct Chrysophenine GX
Next:
Sulphur Black BR
---
Write your message here and send it to us
Products categories