Solvent Red 135
Product Detail
Product Tags
With 25 years' manufacturing experience, XCWY solvent red 135 has advantages of good heat and light resistance.
After soluble in oil, solvent red 135 is a kind of solvent dye with yellowish-red transparent color.
It is widely used for coloring plastic, resin, cellulose acetate, polystyrene and so on.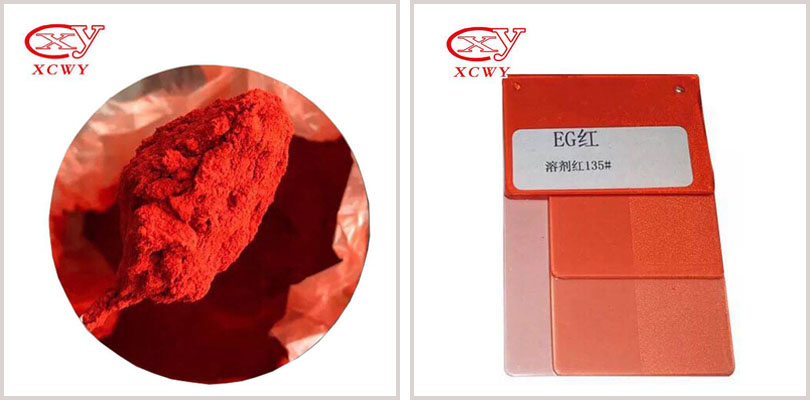 Solvent Red 135 Specification
» Solvent  Dyes Name: Transparent Red EG
» Colour Index: C.I.solvent red 135
» CAS No.: 71902-17-5
Solvent Red 135 Basic Information
Basic Information

Product Name

Transparent Red EG

Colour Index 

C.I. Solvent red 135

CAS No.

71902-17-5

Specification

Shade

Similar With Standard

Appearance

Red powder

        Moisture %≤

 1.0

Insoluble Matter %≤

 0.5

Properties

Insoluble in water, soluble in organic solvent
Performance:
The product has the advantages of strong dyeing power, good heat resistance, high sunshine resistance, acid and alkali resistance and bright color. At present, it is widely used in the coloring of plastics, yarn materials, industrial grease, paint ink, masterbatch and other materials. Some varieties are suitable for chemical fibers, polyester, nylon, acetic acid fibers and other color spinning.
Quality indicators for solvent red 135:
» The heat resistance reaches 240℃-300℃ respectively.
» The light fastness was 6-7 grade and 7-8 grade respectively.
» The migration resistance was 3-4 grade and 4-5 grade respectively.
» The dyeing strength is 100%+3%.
» Moisture <1%

Contact person: Miss Jessie Geng
Email:jessie@xcwychem.com
Mobilephone/Whatsapp: +86-13503270825
---
Previous:
Solvent Red 119
Next:
Solvent Red 218
---
Write your message here and send it to us
Products categories