Direct Blue 151
Product Detail
Product Tags
Direct copper blue 2R CI direct blue 151 is blue-black powder. It dissolves in water and shows a blue-violet solution, but it is easily soluble in alcohol and shows a red-purple color. In case of concentrated sulfuric acid, it is emerald blue, and after dilution, it is purple. Its aqueous solution is purple precipitated with concentrated hydrochloric acid, and concentrated sodium hydroxide solution is reddish purple to wine red. For dyeing cellulose fibers, the dye exhaustion is very good, and the affinity is the highest at 100 ℃.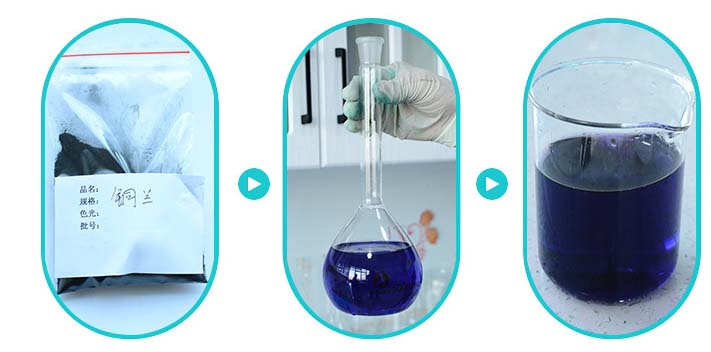 Direct Blue 151 Specification
• Direct Dyes Name: Direct Copper Blue 2R
• Colour Index: C.I.Direct blue 151
• CAS No.: 110735-25-6
• Usage: Cotton Dyestuffs, Paper Dyestuffs, Wool Dyestuffs, Silk Dyestuffs
Direct Blue 151 Basic Information
Basic Information

Product Name

Direct Copper Blue 2R

Colour Index 

C.I. Direct Blue 151

Colour Index No.

24175

CAS No.

110735-25-6

Specification

Shade

Similar With Standard

           Strength

100%

Appearance

Blue Black Powder .

        Light Fastness

2-3

Washing Fastness

4

Properties

Very soluble in water and alcohol
Direct Blue 151 Usage:
Direct blue 151 is mainly used for dyeing cellulose fibers such as cotton, hemp, viscose, etc., and can also be used for dyeing viscose / nylon blended fabrics, as well as leather and paper. Post-treatment with copper sulfate during dyeing can improve light fastness. Post-treatment with formaldehyde can improve its fastness to washing.
We are professional manufacturer of direct dyes, basic dyes, sulphur black and solvent red 49 for over 26 years in China. With reliable quality and good reputation, our dyes are very popular in the Pakistan, Bangladesh, Brazil, Korea, Vietnam, Afghanistan etc.

Contact person: Miss Jessie Geng
Email:jessie@xcwychem.com
Mobilephone/Whatsapp: +86-13503270825
---
Previous:
Direct Blue 15
Next:
Malachite Green Liquid
---
Write your message here and send it to us
Products categories