Direct Red 31
Product Detail
Product Tags
Direct red 31 is used for dyeing cellulose fabrics such as cotton, linen, silk and viscose, dyeing of plastics, plastic products and synthetic resins,
dyeing of silk, nylon and viscose/nylon blended fabrics, and dyeing of paper pulp. For cellulose dyeing, direct red 31 has good dye absorptivity at temperature between 60℃ and 80℃.
At the same time, direct red 31 dye also has good leveling and dyeing performance.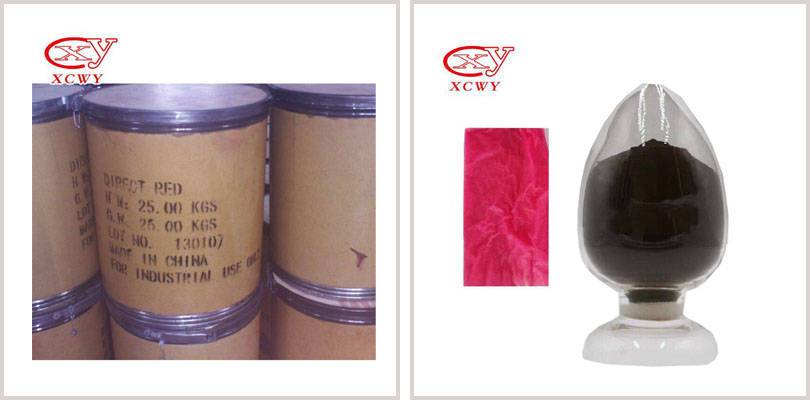 Direct Red 31 Specification
• Direct Dyes Name: Direct Pink Red 12B
• Colour Index: C.I.Direct red 31(29100)
• CAS No.: 5001-72-9
• Usage: Cotton Dyestuffs, Paper Dyestuffs, Viscose Fabric Dyestuffs, Wool Dyestuffs, Silk Dyestuffs
Direct Red 31 Basic Information
Basic Information

Product Name

Direct Pink Red 12B

Colour Index 

C.I. Direct Red 31

Colour Index No.

29100

CAS No.

5001-72-9

Specification

Shade

Similar With Standard

           Strength

100%

Appearance

Red Brown Powder .

        Moisture %≤

2.0

Insoluble Matter %≤

0.5

Properties

Very soluble in water and alcohol
Principle of Direct Red 31 Dye:
Direct dyes have linear molecular structures of water-soluble groups such as sulfonate (-SO3H) or carboxyl (-COOH). The aromatic ring structure is on the same plane, so direct dyes have great affinity for cellulose fibers. Direct dyeing in neutral medium can be carried out directly as long as the dyes are dissolved in water.
If you want to buy direct red dyes, rhodamine pink dyes, sulphur black dyes, welcome to contact with us.

Contact person: Miss Jessie Geng
Email:jessie@xcwychem.com
Mobilephone/Whatsapp: +86-13503270825
---
Previous:
Direct Red 23
Next:
Direct Red Brown RN
---
Write your message here and send it to us
Products categories