Direct Red 23
Product Detail
Product Tags
Direct Red 23 belongs to direct dyestuff, also can be called direct red 4BS, direct scarlet lightfast, enianil fast scarlet 4BS.
It can dissolve directly in water and has high directness to cellulose fibers without using chemical methods to colour fibers and other materials.
Direct Red 23 can color protein fibers (such as wool and silk) in weak acidic or neutral solution. Direct Red 23 is also used for dyeing cotton, linen, rayon.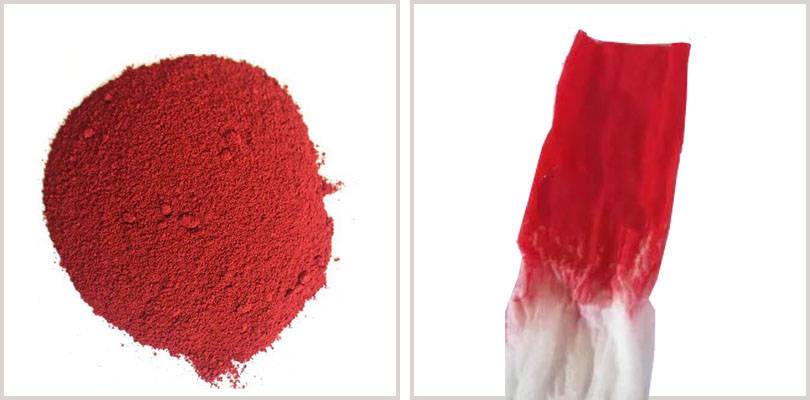 Direct Red 23 Specification
» Direct Dyes Name: Direct Scarlet 4BS
» Colour Index: C.I.Direct red 23(29160)
» CAS No.:  3441-14-3
» EINECS: 222-348-4
» Usage: Cotton Dyestuffs, LinenDyestuffs, Paper Dyestuffs, Silk Dyestuffs
Direct Red 23 Basic Information
Basic Information

Product Name

Direct Scarlet 4BS

Colour Index 

C.I. Direct Red 23

Colour Index No.

29160

CAS No.

3441-14-3

Specification

Shade

Similar With Standard

           Strength

100%

Appearance

Red Powder

        Moisture %≤

1.5

Insoluble Matter %≤

0.5

Properties

Very soluble in water and alcohol
Main Uses & Characters of Direct Scarlet 4BS
It can be used for dyeing cellulose fibers such as viscose, silk, wool, paper and pulp, as well as for making organic dyes.
It is bright red to magenta in concentrated sulphuric acid and turns orange with brownish after dilution; it has orange precipitation in concentrated nitric acid; it is insoluble in concentrated caustic soda solution; it is bright red in concentrated ammonia water.
XCWY is very Good at the Following  Dyes
» Direct red dyes
» Rhodamine red dyes
» Solvent red dyes

Contact person: Miss Jessie Geng
Email:jessie@xcwychem.com
Mobilephone/Whatsapp: +86-13503270825
---
Previous:
Direct Red 28
Next:
Direct Red 31
---
Write your message here and send it to us
Products categories