Sulphur Blue BRN
Product Detail
Product Tags
XCWY Chem sulphur blue BRN dye is also called sulfur blue BRN dye, which are commonly used cellulosic fiber products. 
Sulphur blue dyes are water insoluble dyes. They are usually made by mixing some aromatic amines or phenolic compounds with sulfur or sodium polysulfide. This process is called sulfuration.
The production process of sulphur dyes is relatively simple, the cost is low, the use is convenient, and it has good washing fastness and sunshine fastness. Therefore, the demand for sulphur dyes is quite large. Sulphur dyes are mainly used in the dyeing of cellulose fibers, especially in the dyeing of dark cotton textiles. Among them, black and blue are the most widely used.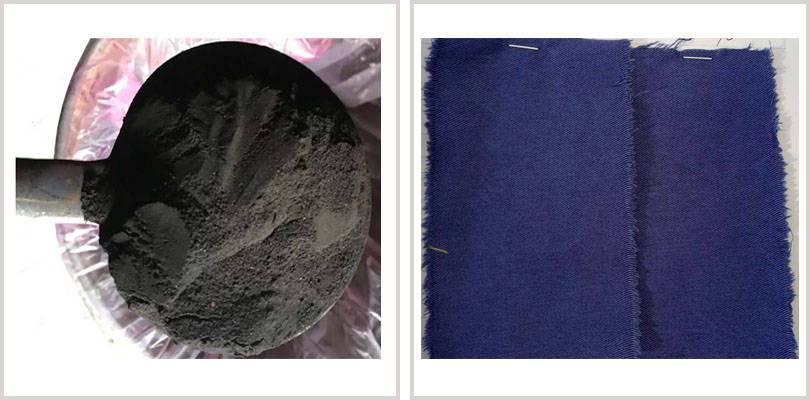 Sulphur Blue BRN Details
» Product name: Sulphur blue BRN
» C.I. NO.: 53441
» CAS NO.: 1327-57-7 
» Appearance: Blue-purple powder
» Packing: 25kg/bag
» Usage: Cotton Dyestyffs, Linen Dyestuffs
Sulphur Blue BRN Basic Information
Basic Information

Product Name

Sulphur blue BRN 

Colour Index

C.I. Sulphur blue 7

CAS No.

1327-57-7

Specification

Shade

Similar With Standard

           Strength

 180%

Appearance

Blue-purple Powder

        Moisture %≤

 2

Insoluble Matter %≤

 0.5

Properties

Insoluble in water
Sulphur Blue BRN Character
Its appearance is blue-purple powder, which can not dissolve in water. It is green-grey in sodium sulfide solution. It is blue-purple in concentrated sulfuric acid and dark blue precipitation after dilution.
Sulphur Blue BRN Usage
This product is mainly used for dyeing cotton, linen, viscose fibers, vinylon and its fabrics. It is the main color dyestuff for navy blue color dyeing. It can also be dyed dark gray with yellow dyes.

Contact person: Miss Jessie Geng
Email:jessie@xcwychem.com
Mobilephone/Whatsapp: +86-13503270825
---
Previous:
Basic Blue 7
Next:
Solvent Yellow 33
---
Write your message here and send it to us
Products categories