Acid Black 194
Product Detail
Product Tags
XCWY Chemical is specialized in manufacturing various kinds of Acid Black Dyes including acid black 194, acid black ATT, mordant black T, aicd black 172 etc.
The Acid Black 194 is water soluble anionic dyes that are applied to fibres such as wool, nylon, paper, washing powder etc.
These dyes are bright, economical, and they are very convenient to use.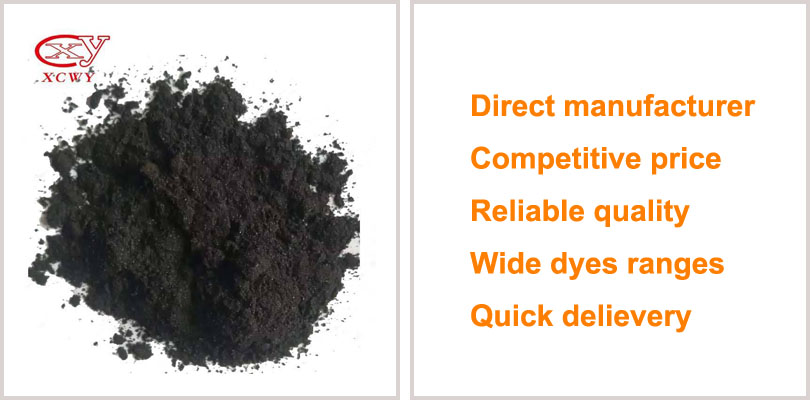 Acid Black 194 Specification
»  Acid Dyes Name: Acid black 194
»  Colour Index: C.I.Acid black 194
»  CAS No.: 61931-02-0
»  Usage: Washing Powder Dyestuffs, Wood Dyestuffs, Leather Dyestuffs, Paper Dyestuffs, wool Dyestuffs 
Acid Black 194 Basic Information
Basic Information

Product Name

Acid black 194

Colour Index

C.I. Acid black 194

CAS No.

61931-02-0

Specification

Shade

Similar With Standard

           Strength

 

140%

Appearance

Uniform Black brown Powder

        Moisture %≤

 1.5

Insoluble Matter %≤

 0.4

Properties

Very soluble in water and alcohol
Acid Black 194 Performance
» Acid black 194, black brown uniform powder, which is soluble in water and become black solution.
» Molecular formula: C20H12N3NaO7S
» Molecular weight: 461.38
» The solubility in water is 30 g/L at 25℃ and 70 g/L at 90 90℃. It is used for dyeing and printing wool, nylon, silk and so on.
   It has good dyeing depth on nylon fabrics and for leather dyeing.

Contact person: Miss Jessie Geng
Email:jessie@xcwychem.com
Mobilephone/Whatsapp: +86-13503270825
---
Previous:
Acid Light Yellow 2G
Next:
Acid Black 172
---
Write your message here and send it to us
Products categories