Direct Blue 15
Product Detail
Product Tags
Direct sky blue 5B CI direct blue 15 is a kind of direct blue powder dyes, which is soluble in water very easily.
Cangzhou Xincheng Weiye Chemical is specialized in producing direct blue 15 dye for 26 years with good fastness, bright color and competitive price.
Character description:
Blue powder, easily soluble in water, showing red light blue solution, insoluble in organic solvents. In case of concentrated sulfuric acid, it is blue-green, and after dilution, it is red and blue; in case of concentrated nitric acid, it is red and gray solution. Its aqueous solution is added with concentrated hydrochloric acid, which shows red light blue precipitation; when it is added with concentrated sodium hydroxide solution, it is purple precipitate. For dyeing cellulose fibers, the dye exhaustion is very good, and the affinity is the largest at a temperature of 80-100 ℃.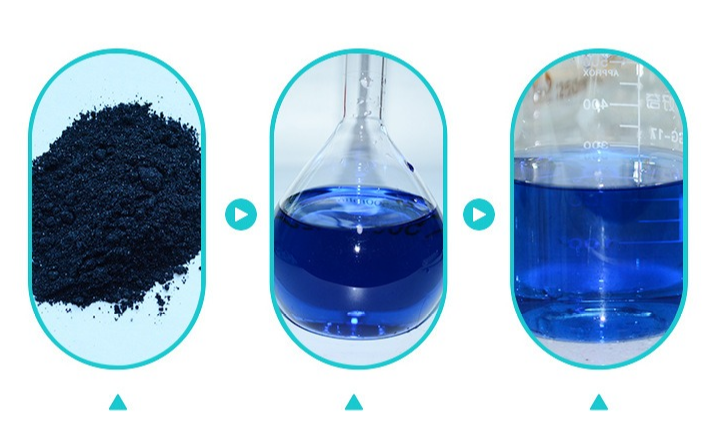 Direct Blue 15 Specification
• Direct Dyes Name: Direct Sky Blue 5B
• Colour Index: C.I.Direct blue 15
• CAS No.: 2429-74-5
• Usage: Cotton Dyestuffs, Paper Dyestuffs, Wool Dyestuffs, Silk Dyestuffs
Direct Blue 15 Basic Information
Basic Information

Product Name

Direct Sky Blue 5B

Colour Index 

C.I. Direct bLUE 15

Colour Index No.

24400

CAS No.

2429-74-5

Specification

Shade

Similar With Standard

           Strength

100%

Appearance

Dark Blue Powder .

        Moisture %≤

2.0

Insoluble Matter %≤

0.5

Properties

Very soluble in water and alcohol
Direct Blue 15 Usage:
Mainly used for dyeing of cotton; viscose and other cellulosic fibers, but also for paper; biological dyeing, can also be used to make ink. Direct Sky Blue 5B is one of the main blue dyes currently used. It is the largest amount used in viscose fabrics for dyeing and printing.
We are not only the factory of direct blue 15, direct blue 86, direct blue 151, but also we are the leading manufacturer of Rhodamine B dye in China. Welcome your inquiry for more market information.

Contact person: Miss Jessie Geng
Email:jessie@xcwychem.com
Mobilephone/Whatsapp: +86-13503270825
---
Previous:
Sulphur Black 200
Next:
Direct Blue 151
---
Write your message here and send it to us
Products categories