Acid Blue 9
Product Detail
Product Tags
Which supplier should choose to buy acid blue 9 ? Which supplier has good quality? 
XCWY company is your first choice. We are the professional leading manufacturer of acid blue 9 in China, which has our own workshop, facilities and testing equipment. 
There is no middle business man during your purchase of acid blue 9 from our factory, so you can get the most competitive price for your customers.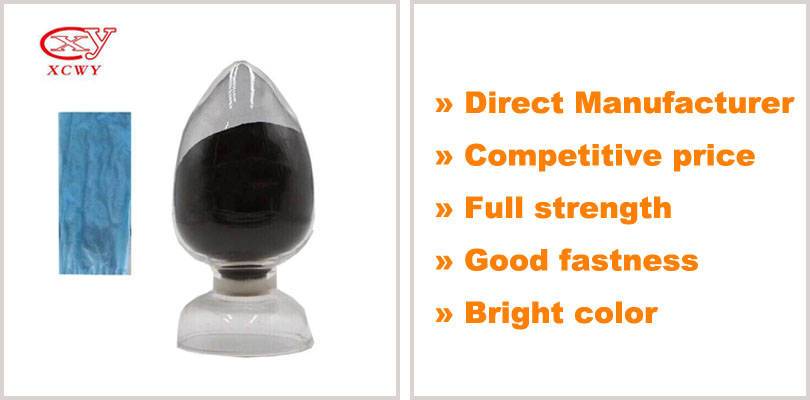 Acid Blue 9 Specification
» Acid Dyes Name: Acid brilliant blue
» Colour Index: C.I.Acid  blue 9(42090)
» CAS No.: 2650-18-2
» Molecular Formula: C37H34N2Na2O9S3
» Usage: Wool Dyestuffs, Leather Dyestuffs, Paper Dyestuffs, Silk Fabric Dyestuffs, Plastic Dyestuffs ,Textile Dyestuffs,
Acid Blue 9 Basic Information
Basic Information

Product Name

Acid brilliant blue

Colour Index 

C.I. Acid blue 9

Colour Index No.

42090

CAS No.

2650-18-2

Specification

Shade

Similar With Standard

           Strength

100%

Appearance

Blue Purple Powder

        Moisture %≤

2.0

Insoluble Matter %≤

0.5

Properties

Very soluble in water and alcohol
Acid Blue 9 Advantages
Acid blue 9 (CAS: 2650-18-2) appearance is blue-purple powder. It is easy to dissolve in water. Its solubility in water is 50 g/L (90 ℃). The water solution is blue with green shade.
It is used for dyeing wool, silk, nylon and wool blended fabrics and direct printing of wool and silk fabrics. Bright color, good levelness and color fastness.
Except acid blue 9, our factory can also produce rhodamine b, solvent red, sulphur black, welcome your inquiry.

Contact person: Miss Jessie Geng
Email:jessie@xcwychem.com
Mobilephone/Whatsapp: +86-13503270825
---
Previous:
Acid Blue 93
Next:
Liquid Blue for Paper
---
Write your message here and send it to us
Products categories