Metal complex dyes have good solubility in organic matter and bright colors. And it has excellent weather resistance and thermal stability, and can be widely used in wood coloring, printing ink, aluminum paper surface coating, hot stamping coating, plastic spraying, leather dyeing, and other low-temperature baking paint for indoor decoration (150-160 ℃). Complies with the en-7 standard.
Application of metal complex dyes:
1. Surface coating of aluminum foil paper and electroplating adhesive film
The surface of aluminum foil paper and electroplated adhesive film is coated and gilded, resulting in bright and vibrant colors.
2. Wood Coatings
Metal complex dyes excellent solubility is combined with most solvents and resins, especially with nitrocellulose varnish, amino resin, polyurethane resin, polyester resin, polyacrylic acid resin, etc., to make wood coatings.
3. Printing ink
It can be made into high-end transparent ink for gravure printing and offset printing.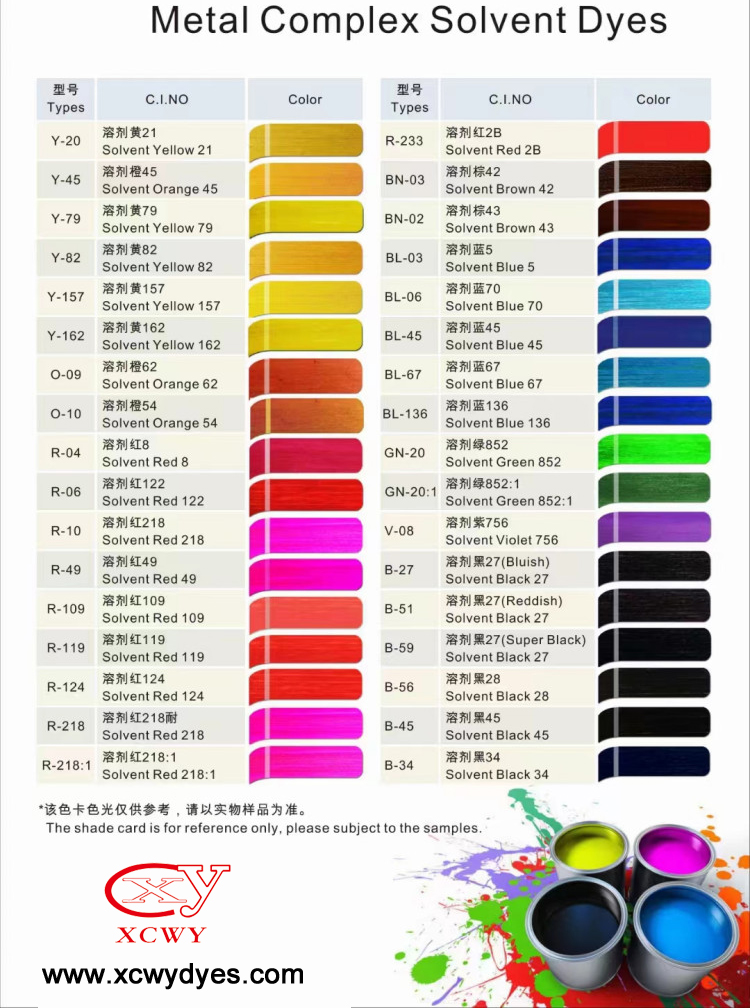 4. Leather dyeing
Suitable for pre dyeing and post spraying dyeing of various types of natural leather, it exhibits superior luster and weather resistance compared to traditional leather dyeing.
5. Stationery ink
Metal complex dyes can be made into various types of oily ink for stationery with excellent solubility and durability.
6. Others
It can also be used for plastic spraying, shoe polish dyes, transparent flash paint, and low-temperature baking paint.
Usage of Metal Complex Dyes:
a. Firstly, completely mix the solvent
b. Stir the resin in the solvent until it is completely dissolved.
c. Add metal complex  dye under stirring until completely dissolved.

Contact person: Miss Jessie Geng
Email:jessie@xcwychem.com
Mobilephone/Whatsapp: +86-13503270825
---
Post time: Nov-15-2023