In chemical dyestuffs, what is the use of acid orange II? You may not know about it and what is the production method of acid orange II. You all know that acid orange II belongs to chemical dyestuffs and is forbidden in food. Now let's look at the use of acid orange II and the production method of acid orange dyes. Please see the following content: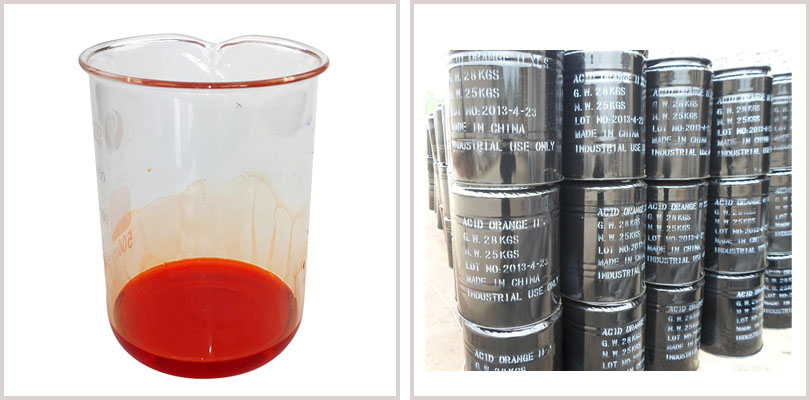 Acid orange II can be used for dyeing silk and wool fabrics, paper and ink, wood products, pencils and biological coloring. Main technical indicators: grade 4-5 of sun exposure; grade 2 of perspiration; mainly used for dyeing wool, silk, nylon, leather and paper, and printing directly on wool, silk and nylon wheels. It can also be used as indicator and biological staining. Acid dyes are mainly used in the dyeing of wool, silk and nylon, as well as the dyeing of leather and paper. They play an important role in the production and import and export of all kinds of domestic dyes. From 2001 to 2003, China added 55 acid dyes, including 7 yellow colors, 4 orange colors, 17 red colors, 10 blue colors, 3 green colors, 9 Brown colors and 5 black colors.
It is a kind of dyestuff with the largest increase of new varieties among all kinds of dyestuffs for textile, accounting for 24.6% (about one quarter) of the total number of new dyestuffs. Acid orange II is a kind of chemical dyestuff, which is forbidden to be used in food.
As one of the leading manufacturer of acid orange II, rhodamine b dye, sulphur black and solvent red, Cangzhou Xincheng Weiye Chemical strictly control the production process and quality control to make sure all of our products qualified and better meet client's requirement.

Contact person: Miss Jessie Geng
Email:jessie@xcwychem.com
Mobilephone/Whatsapp: +86-13503270825
---
Post time: Jan-05-2020