In the period of 2015-2018, the Pakistani Punjab Chemical Products and Dyes Business Association (PCDMA) and the Pakistani International Exhibition and Conference Co., Ltd. (CEIT) successfully jointly organized the fourth session of the Blegge Exhibition with the General Agent of China. In 2019, people from the dyestuff and chemical industries and related industries will be gathered again in the Lahore Exhibition Hall to establish and promote professional relations in the industry.As the leading manufacturer of liquid black dye, Cangzhou Xincheng Weiye Chemical Co., Ltd attedn the COLOR CHEM EXPO hold in June. 9-10th, 2019.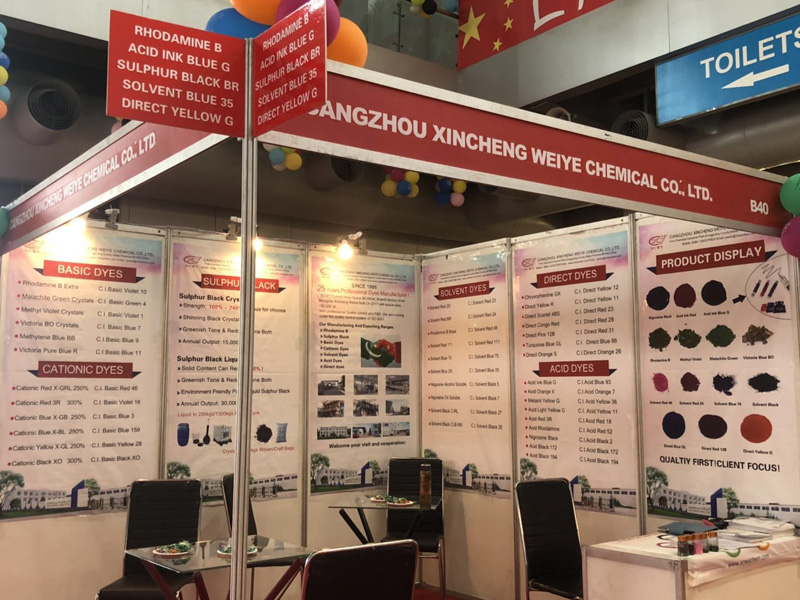 In the top 10 countries and regions of China's dyestuff export from January to December 2017, Pakistan ranked the fourth, respectively, in terms of market capacity and ranking of various types of dyestuffs imported by Korea, Indonesia, Taiwan, Pakistan, Turkey, Bangladesh, Vietnam, India, Brazil, Thailand, and Pakistan. Among them, the import volume of vat dyes ranked second, the import volume of reactive dyes ranked ninth, and basic dyes ranked ninth, and sulphur black dye imports ranked first.
Our company has a long history of producing various kinds of chemical dyes for more than 25 years, especially for Pakistan market, our liquid black dye is very popular by the textile and paper industry.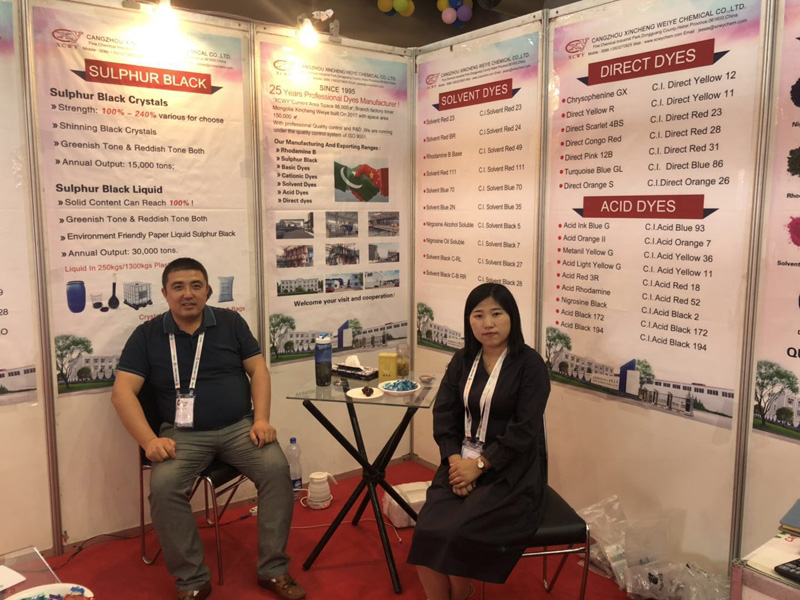 Environmental-friendly liquid black dye is mainly used in denim dyeing, embryo dyeing, knitting dyeing and tube dyeing. Compared with other cotton dyes such as reactive dyes and Schilling dyes, it has the characteristics of low cost and short process. Liquid black dye has been increasingly accepted by domestic and foreign printing and dyeing manufacturers. In the dyestuff market of developed western industrial countries.
In this dyes exhibition in Lahore, Pakistan, we meet with our old customer and known some new customers who are interested in doing business with us. As liquid black dye is a new product, it is very welcomed by users once we introduced to new customers. Believe we will establish business relationship for basic dyes, acid dyes, direct dyes and sulphur black with each other in the near future.
---
Post time: Jul-01-2019