Since Jan.24th, 2020, China Wuhan decided to lockdown to prevent coronavirus spread, a war without gunpowder started. 
Through two months fighting, China has controlled virus very well and the economy started gradually. 
However, coronavirus has spreaded in the world fastly. Now all the world is fighting with virus. More countries are lockdown and suggest people stay home. 
To secure people safety and health, many exhibition and activities was stop or postponed, including Shanghai Interdye exhibition. It was postponed to November 8-10th from April.
This exhibition is very famous and professional in dyes exhibitions. Since 2012, our company attend attend it every year with same Booth No. B768.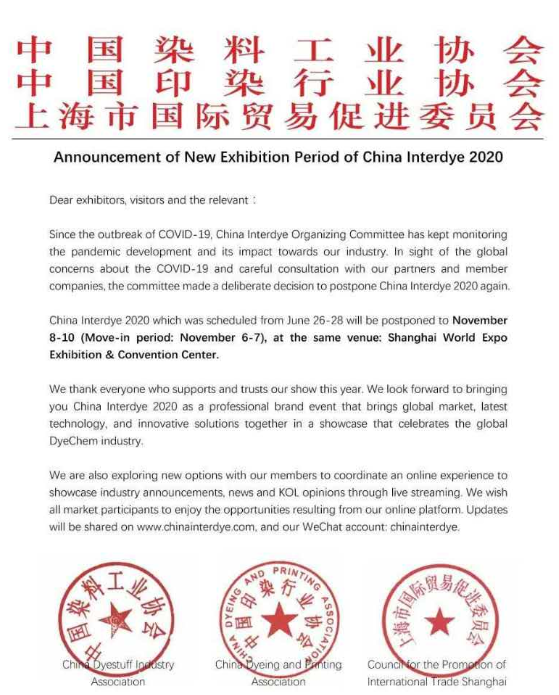 Our company-Cangzhou Xincheng Weiye Chemical is specialized in producing basic dyes, sulphur black dyes, acid dyes, direct dyes and solvent dyes, which are used for coloring of paper, wood, textile, plastic, pigment and so on.
Our Basic Dyes Series: 
Malachite Green 
Methyl Violet 2B
Auramine O
Basic Blue 7/11/26
Our Acid Dyes Series
Acid Orange II
222 Metanil Yellow G
Acid Black ATT
Acid Red 3R
Ink Blue G
Our Direct Dyes Series
Direct Yellow G
Direct Yellow R
Direct Red 23/28/31
Direct Black EX
Our Solvent Dyes Series
Solvent Red 49/24/112/119/135
Solvent Blue 35/70
Solvent Yellow 21/82
Solvent Black 5/7/28

Contact person: Miss Jessie Geng
Email:jessie@xcwychem.com
Mobilephone/Whatsapp: +86-13503270825
---
Post time: Apr-22-2020